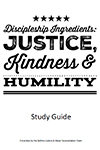 NOTE: For a limited time you can download these videos for free: https://gospelinlife.com/downloads/formed-for-justice-conference-2
You've probably heard the famous verse from Micah 6:8, "He has told you, O mortal, what is good; and what does the Lord require of you but to do justice, and to love kindness, and to walk humbly with your God?" Do you wonder what that looks like in real life? Are you curious about how issues of racism fit into the picture of biblical justice? Would you like to have a sound framework for thinking about justice that's built on the Bible? This six week series will help you answer these questions.

Racism is the opposite of what God intends for humanity. It is the rejection of the other, which is entirely contrary to the Word of God incarnate in Jesus Christ. Racism is a lie about our fellow human beings, for it says that some are less than others. Because of our biblical understanding of who God is and what God intends for humanity, the PC(USA) must stand against, speak against and work against racism.