Rediscipling the White Church: From Cheap Diversity to True Solidarity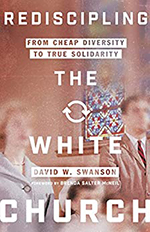 "Many white Christians across America are waking up to the fact that something is seriously wrong―but often this is where we get stuck." Confronted by the deep-rooted racial injustice in our society, many white Christians instinctively scramble to add diversity to their churches and ministries. But is diversity really the answer to the widespread racial dysfunction we see in the church? In this simple but powerful book, Pastor David Swanson contends that discipleship, not diversity, lies at the heart of our white churches' racial brokenness.
Before white churches can pursue diversity, he argues, we must first take steps to address the faulty discipleship that has led to our segregation in the first place. Drawing on the work of philosopher James K. A. Smith and others, Swanson proposes that we rethink our churches' habits, or liturgies, and imagine together holistic, communal discipleship practices that can reform us as members of Christ's diverse body.